On a late December night in 2012, I received a panicked phone call from my brother. His niece was days away from submitting her college applications. She'd shared her Common App essay, which she thought was great. He wasn't so sure. Because I was the writer in the family, he asked me to take a look.
After one quick read, without ever having met this girl, I knew she could do better. So I talked her through brainstorming, writing, and rewriting a wholly reconceived essay. Seventy-two hours later, she submitted her application with a powerful and moving essay that helped her get into her first-choice college.
As friends heard that I'd helped one student, they started asking me to help more. I found I loved guiding young people as they reflected on their experiences and figured out what makes them feel most alive. Over time, I developed a coaching system that worked for every kind of student. I also discovered that little brings me greater joy than sitting down with new students, taking the time to discover what matters most to them, and showing them how to express it to great effect.
After several years, I recognized how many deserving teens don't have access to private coaching, so I decided to distill what I'd learned into CRUSHING THE COMMON APP ESSAY: A Foolproof Guide to Getting into Your Top College. The book aims to teach all students how to reflect on their experiences and present their best selves on the page.
---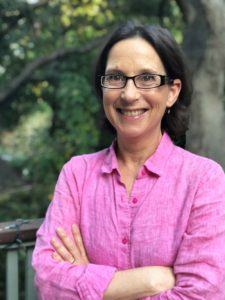 I have a BA in Humanities from UC Berkeley and an MFA in Screenwriting from the USC School of Cinematic Arts. As a member of the Writers Guild of America, I've written for film and television and have sold pitches, pilots, and screenplays.
I live in Los Angeles with my husband and have three children, two of whom are currently in college. As was with my own kids, my goal with your children will be to help them move calmly through this challenging process and find a peaceful path to the right school.